Nios Admission is open for 10th & 12th classes in Aya nagar, Ghitorni, Chattarpur, Mehrauli (Apply Now, Last Date coming soon)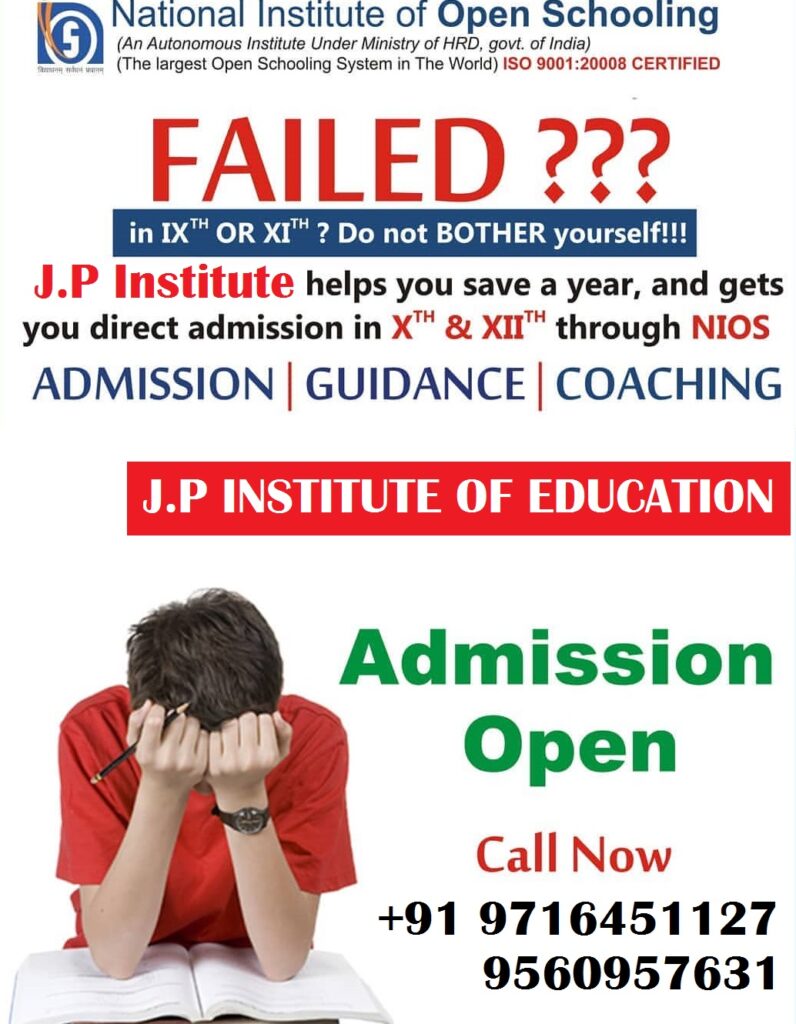 कोन एडमिशन ले सकते है ?
जो स्टूडेंट्स 8 वीं, 9 वीं और 10 वीं कक्षा में फ़ैल हो गये है किसी भी स्कूल से तो वे विद्यार्थी सीधा 10 वीं कक्षा में एडमिशन ले सकते है
जो स्टूडेंट्स 11 वीं या 12 वीं कक्षा में फ़ैल हो गये है तो सीधा 12 वीं में एडमिशन ले सकते है
एडमिशन अभी ओपन है अगर आपको कोई भी जानकारी पूछना चाहते है या फिर एडमिशन करवाना चाहते है तो आप हमे निचे गये दिए मोबाइल नंबर पर कॉल और whatsapp मेसेज कर सकते है |
J.P INSTITUTE आपको प्रदान करता है विशेष सुविधाएं :-
NIOS की 10वींं, 12वी के फार्म भरने का विशेष प्रबंध है !
NIOS की BOOKS, SAMPLE PAPERS & GUIDE.
REGULAR CLASSES हिन्दी और ENGLISH MEDIUM (NIOS)
NIOS की परीक्षा EXAM FEE भरने की सुविधा !
TMA & ASSIGNMENT बनवाने में J.P INSTITUTE आपकी मदद करता है !
I-CARD निकलवाने की सुविधा !
PRACTICAL FILE बनाने की सुविधा !
Hall Ticket की सुविधा !
Date Sheet की सुविधा !
MARK SHEET निकलवाने की सुविधा !
All notifications regarding NIOS admissions through SMS, Whatsapp, E-mail and Calls.
Online Result की सुविधा !
We at J.P INSTITUTE OF EDUCATION Provide NIOS Admission for OCTOBER 2023-24 session For more detail about course you can visit our Institute.
Limited Seats Call Today!
Have Any Question – About Fees, Timing etc.?  Feel free to call us at – +91 9716451127, 9560957631
https://www.niosadmission.com/
https://jpeducation.in/nios-online-form/
https://niosboardadmissions.blogspot.com/
https://niosboardadmission.business.site/
https://niosopenschool.business.site/
#niosadmission #openschooladmission #distanceeducation #schoolofopenlearning #niosondemandexam #niosexam #niosvalue #niostudycenter #niosopenschool #nios10thadmission #nios12thadmission #niosfom #niosregistration #niosonlineadmission #education #onlineregistration #nioscontactnumber #niosoffice