10th & 12th Failed Students Golden chance to give exam this year 2022 October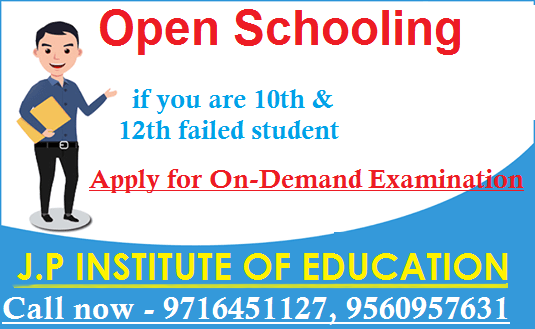 We at J.P Institute of education provide nios board admission through an online process. as we mentioned above 10th & 12th failed students can give exams this year October 2022. In this those students who have failed in 10th & 12th class from any state board or CBSE board and have original failed / compartment marksheet. students are eligible to give this examination.
we explain here- if you are failed in 10th & 12th class in one or two or three subject so you can give those failed subject exam in this year and you are pass in two subject so these two pass subject marks will be transferred from your previous board to nios board result. and you will get all subject marksheet from nios board. this is called TOC means the Transfer of credit system.
10th & 12th Failed Students Give Exam in June, July, Aug, September 2022
In this those student who has failed in 10th & 12th class and want to give exam earlier from nios board so nios board provides on demand exam system. In this, the failed students can give exam in June, July, Aug, Sep 2022 as per his/her choice of exam dates. students can choose the exam dates & exam centers in any state of India. this is called nios on demand examination. the admission is open now interested students can contact J.P institute for the Online admission process & proper guidance.
10th & 12th Pass Students Improve Marks from Nios Board
Those students who have passed the 10th & 12th class from any recognized board and got fewer marks & percentage and want to improve marks in some subject. J.P Institue is provides nios admission for those students who want to give improvement exam through nios board so nios admission is open and give exam in this year 2022 and get result within 45 days.
Have Any Questions – About Fees, Timing, etc.?  Feel free to call us at – +91 9716451127, 9560957631
Send Admission inquiry