Distance & Online Learning Education Graduation Courses
Graduation Courses – B.A, B.COM, B.COM(HONS.), B.LIB, BBA, BCA, B.SC,
Post Graduation course – M.A, M.COM, MBA
Features-:
👉Online Admission
👉Online exam from Home
👉Online assignment submission
👉Online Study material
👉Affordable Fees
👉Semester-wise exam
👉From UGC & DEB & NaaC Graded Govt. Approved University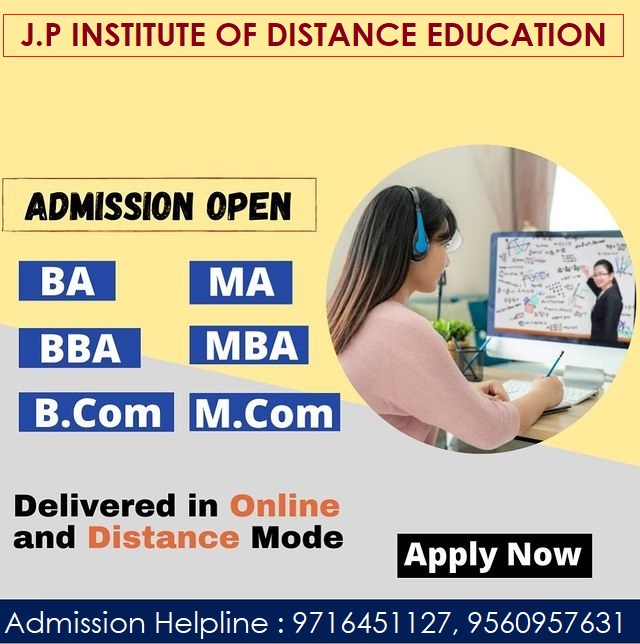 Distance education graduation courses, also known as online or remote learning programs, offer several benefits that make them an attractive option for many individuals. Some of the key advantages of pursuing a distance education graduation course include:
Flexibility: One of the primary benefits of distance education is the flexibility it provides. Students can access course materials and lectures at their convenience, allowing them to study and complete assignments at their own pace. This flexibility is particularly beneficial for working professionals, parents, or individuals with other commitments who need to balance their studies with other responsibilities.
Accessibility: Distance education allows students to access quality education regardless of their geographical location. This is especially advantageous for students who live in remote or underserved areas, as they can enroll in courses offered by prestigious institutions without the need to relocate.
Cost-effectiveness: Online courses often have lower tuition fees compared to traditional on-campus programs. Additionally, students can save money on commuting, housing, and other expenses associated with attending a physical campus, making distance education a cost-effective option.
Customization: Many online programs offer a wide range of courses and specializations, giving students the flexibility to tailor their education to their specific interests and career goals.
Personalized learning: Online courses often incorporate various learning technologies that allow for personalized learning experiences. Students may have access to adaptive learning tools, interactive simulations, and self-assessment quizzes that cater to individual learning styles.
Career advancement: Distance education graduation courses can help individuals enhance their skills and qualifications, leading to career advancement opportunities. Employers increasingly recognize and value online degrees, which can positively impact job prospects and salary potential.
Work-Study Balance: Distance education allows students to continue working while pursuing their studies. This combination of work and study can provide real-world application opportunities, allowing students to apply what they learn immediately in their professional settings.
Networking Opportunities: Online programs often facilitate virtual networking opportunities, connecting students with peers and professionals from different parts of the world. These interactions can lead to valuable connections and collaboration opportunities.
No relocation required: For students who prefer to stay in their current location or cannot relocate due to personal or professional reasons, distance education provides a way to obtain a degree without having to uproot their lives.
Enhanced technical skills: Students in online programs gain proficiency in using various digital tools and technologies, which are valuable skills in today's technology-driven world.
Despite these benefits, it's essential to acknowledge that distance education may not be suitable for everyone. It requires self-discipline, time management, and a reliable internet connection to succeed in online learning. Additionally, some fields of study may require hands-on experience or practical training, which might be challenging to replicate in an online environment. As with any educational choice, careful consideration of personal circumstances and learning preferences is crucial in deciding whether distance education graduation courses align with one's goals and needs.
We help students to take admission in Top Ranked Colleges & Universities in India & in various Courses in Distance Education Learning.
For More Details:-
Mob- +91-9716451127 | 9560957631
Email- info@jpeducation.in
Web- www.jpeducation.in
MBA Admission I M.COM Admission I BLIB Admission I Medical Admission I BBA Admission I Distance & Online MBA I Management Admission | M.A Admission | B.A Admission